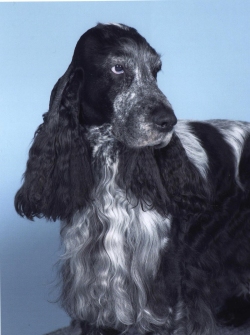 Ch Whitfield's Crescent Moon ECM
"Smudge"
#1 English Cocker for 1997
Multiple Best In Show dog
Smudge recently earned his E.C.M. with 20 champion kids
and more soon to finish.
I originally got my first English Cocker in 1985 as a family pet and obedience dog. Soon I was bewitched by the breeds' temperament and beauty.
The more I was around them the more I realized I wanted to be deeper involved with the breed. I had a lot to learn about them to compete in the breed ring but no where near what I had to learn (and am still learning) to become a responsible and conscientious breeder.

I feel I have been blessed to have had the chance to learn so much from many of the breeds most devoted breeders.